"Zia … a consistently good songwriter…great work" – Robert L. Smith, Defy Recordings NYC (Michael Jackson, Stevie Wonder, David Bowie, Lady Gaga, U2, Glee et al.)
Intro:
Billboard Charting Artist, ZIA (pronounced Zyer) is an Australian-born singer, songwriter, DJ and producer, whose passion is fusing genres of dance, pop, rock, funk and R&B. She honed her skills by touring extensively with major Australian and international artists.
Pronounced a hit by USA's Billboard Magazine, Australian singer-songwriter, Zia's "The Cool" playlists in 2400 Stores Australia wide including Bardot, Dotti, KMart, Hairhouse Warehouse, KFC, and Rebel Sports.
ZIA's music charted TOP 10 Billboard Dance/Club Charts hitting #9, 2 weeks in a row June 2017, #5 Billboard Breakout Dance/Club Charts USA, #1 Kings of Spins Global Radio DJ Charts, #11 TOP 100 Beatport Electro House Charts, #21 TOP 100 Beatport House Charts, #15 Official European Independent Music Charts, and #1 Streamed Play MPE Charts Australia and New Zealand.
"ZIA's music transcends time, space, genre and consciousness" – Craig Obey (DJ/Producer – releases with MoS)
Signed to 418 Music for the USA release, ZIA's latest track, "The Cool" was written and performed by ZIA, and produced by UK Producer Geoffrey Ahn (aka GA). This track is a rhythmic celebration of cool friends and hot club nights with infectious and seductive remixes by Grammy-nominated StoneBridge, 2017 Remixer of the Year DJ Kue, Sweden's Artist/Producer Damien Hall, Multi-Platinum Producer Mr Mig (aka H3dRush), Indonesia's Producer/DJ/Artist SKUNXX, and Italy's #1 Female Producer/DJ EVO-K.
Bio:
Hailing from the Mooloolah Valley ('Land of the Black Snake' in Aboriginal language) on the Sunshine Coast, ZIA pronounced (Zyer) is an Australian born singer/ songwriter and producer fusing dance, pop, rock, funk and R&B.
ZIA has spent many years honing her skills, graduating with Honours from Southern Cross University majoring in vocals, bass and composition, and touring extensively with major Australian and international artists. She has shared billing with Diesel, Katie Noonan, Vandalism and Sneaky Sound System,
Having shared a long list of accolades, ZIA's music has seen features in the Top 30 ARIA Club Charts, The Young Hollywood Awards Show – USA, RAGE, VEVO, Billboard Songwriting and Music Oz Awards, multiple Australian Independent Music Video Awards, #5 Billboard Breakout Dance/Club Charts USA, Debut #45 Billboard Dance/Club Charts, Top 10 Billboard Dance/Club Charts – #9 – 2 weeks in a row, #11 Beatport Electro House Chart, #21 Beatport House Chart, #1 Kings of Spins Global Radio DJ Charts, #15 Official European Independent Music Charts, and #1 Streamed Play MPE Charts Australia and New Zealand.
ZIA's ultimate passion is writing, producing and fusing genres of dance, pop, rock, funk and R&B, and she loves to DJ for special events with a 10-month residency at Drift Bar, Beachside, Queensland, Australia.
'The Cool'
#9 Billboard Dance/Club Charts USA Top 10, 2 weeks in a row
#19 Billboard Dance/Club Charts USA
#24 Billboard Dance/Club Charts USA
#29 Billboard Dance/Club Charts USA
#37 Billboard Dance/Club Charts USA
Debut #45 Billboard Dance/Club Charts USA
#5 Billboard Breakout Dance/Club Charts USA
'The Cool Remixes'
#11 on Top 100 Beatport Electro House Charts
Multi-platinum producer Mr. Mig aka H3drush, Italy's #1 female DJ/Producer EVO-K, and Indonesian producer/remixer SNUNXX, put their electro house spin on Zia's "The Cool".
'The Cool'
#21 on the Top 100 Beatport House Chart
'Remix Producer of the Year 2017' DJ Kue, Grammy Nominated Producer/DJ/Artist StoneBridge, Sweden's rising Producer/Artist Damien Hall, & London's Artist Producer G.A. create uplifting House, Piano House, Progressive House and Tribal House remixes of "The Cool".
'Magical'
'Magical is a fusion of trance, pop and dance.
Written, programmed and additional production by ZIA, with production, mix and master, by UK producer / artist Geoffrey Ahn aka G.A., 'Magical' is dedicated to and honours the life of young Naomi Scherr who, at age 13, lost her life in the Mumbai terrorist attack of 26/11.
35,000+ Streams on Spotify
https://open.spotify.com/artist/1ykJjVm49QagwecS7jCIZb
'
'Mission: Miami 4 (WMC 2017 Compilation)'
Producer Kue's Remix of 'The Cool' features stunning saxophone. DJ KUE has remixed for Calvin Harris, Maroon 5, Ciara, The Chainsmokers and Katy Perry, and wins 2017 "Remix Producer of the Year" & "Best Banger" at the Remix Awards in Miami.
TESTIMONIALS
"It was a pleasure working with Zia as a mix engineer on 3 of her songs. Her music shows her extreme talent and maturity as an artist, musician and songwriter. She has a great ear for music and was open to suggestions in making her songs stand out from the rest. I would recommend Zia to anyone looking to work with her, she is a true professional." – Dave Manna (Producer, Engineer, Manna Studio – Top 10s UK, Australia, Germany, Italy, France, Spain, Netherlands)
"Zia opened for me during my National Tour at my Brisbane show. She was dynamic, versatile, incredibly passionate about original music . . . reliable and the crowd loved her. I was very impressed." – Alex Gibson (The Voice)
"Zia . . . a powerhouse singer, songwriter and super tight and funky bass player . . . combining all three into an innovative solo show really brought home the talent living inside this remarkable woman. It's been a wonderful journey to watch from out teenage recordings to the world class recordings Zia is producing today and I am proud to have been a part of it." Ben Rosen – Founding Partner, The Gunnery, Singapore
"Zia is an exceptionally talented musician, bass player & song writer. I had the privilege of working with her in my band as my bass player & backing vocalist. We toured the east cost of Australia for over a year. In that time we spent many hours writing together & were often in the studio recording our songs. Zia was a pleasure to work with, she`s an exceptional bass player she has a great feel for the groove of a song. She has great top line melody ideas as she is also a fantastic singer. I find her to be an inspired & driven artist, with an abundance of ideas & positivity. She is also a great listener & is equally happy to go with ideas you put forward.
Because of her talent as a bass player, singer, passion for music & incredible drive. I have nothing but the utmost respect for Zia as a musician/song writer & person."
Johnny Amobi, London – Composer / Singer / Entertainer (Performances for HRH Princess Diana, Prince Charles, Prince William, Liza Minelli, Francis Ford Coppola, Steven Spielberg, Kevin Spacey, Dame Judy Dench, sessions for producer George Martin, w/ principal roles in Andrew Lloyd Webbers West End Productions of 'Starlight Express', 'Miss Saigon', 'Joseph And His Amazing Technicolor Dream Coat', and 'Notre Dame de Paris')
"Zia's music is rooted in authenticity and laced with powerful emotion. Raw, real and edgy . . . healthy, long-lasting sonic nutrition for the soul" – Jason Gilbert, Global Spotlight, USA
"I loved the way you got the crowd going with your performance, your music is captivating and your energy on stage was contagious throughout the crowd . . . Fantastic Gig!!!"
Claire – Big Brother, Brisbane's Summer Street Party
"Zia is a funky little groove master. She's a professional who knows how to get the jobs done. She writes catchy melodies over solid grooves" (5 summer tours as Bassist and Backing vocalist &; solo supports w/) Lisa Hunt, Acclaimed New York Soul Singer – Love Station, Sting, Macy Grey, Ronan Keating, Tina Arena
"We promised the crowd entertainment and dance the crowd off their feet, is exactly what Zia managed to do at the Brisbane Pride Festival. Playing to a 2000 strong crowd, Zia accompanied by her band and dancers, kept the audience moving to some amazing sounds, filled with gutsy bass. The Festival extends a very big thank you to Zia and the crew for helping Fair Day celebrate in style."
(Kylie Mitchell, Entertainment Co-ordinator, Brisbane Pride Festival)
"Zia is a little pocket rocket with a massive voice! Able to keep a crowd going long into the night. Cheers again . . . always a pleasure having you singing up a storm!!" Facebook Post – Nic Turnbull – Manager, Plough Inn, South Bank Parklands, Brisbane
"Zia definitely rocked the house. Framed by a burning light show she belted out tunes that could have easily been the white labels in our favourite DJ's cases. All the ingredients were there, dirty beats, a fat bass line and just enough vocals to get your groove on, Zia was definitely a highlight." – Sean Bates, Cut & Taste Live Event Coordinator, Brisbane
"Brains, Beauty and One Badass Bass" – Skye Staniford – composer / performing artist / journalist
MORE ABOUT ZIA
ZIA (songwriter, vocals, bass, guitar, keys, producer, DJ) – souring melodies, soulful vocals, funk-infused pop, music for visuals, acoustic and electronic.
ZIA is a dynamite musical force and undeniably one of Australia's most passionate independent female artists / songwriters.
She's a singing, songwriting machine with a natural flair for writing catchy, uniquely flavoured music across various genres from slow melodic songs to funk, club tracks, and music for visuals.
When she's not slapping out bad ass bass in one of her many musical expressions she's performing solo acoustic or live electronic sets (vocalist/bass player/guitarist) with guest performers and DJ's.
Zia has gained much respect for her accomplished and savvy bass playing style. A skilled performer and natural musician, she plays a US Spector NS2 oil finish bass. Zia's professional and creative focus, coupled with her strength of delivery and raw musical talent has seen her earn countless awards for her musical professionalism and dedication.
Passionate and independent, Zia is also Creative Director of Australian record label Rock the Om.
Zia immerses herself in the production of her original songs of which there are over 200 and counting.
In November 2014 ZIA's music video Looking At You won at the Australian Independent Music Video Awards, creating history as the first artist with four videos as finalists.
GIG TRAIL
Sydney's the Basement, The East Coast Blues and Roots Festival, Woodford Folk Festival, Brisbane's Pride, Byron Bay's Beach Hotel. Zia toured extensively playing soul and Motown hits as bassist, backing vocalist and solo support artist with New York's Soul Diva Lisa Hunt (Love Station, Sting, Macy Grey, Ronan Keating, Tina Arena, et al.) consolidating her reputation as a world class entertainer.
SUPPORTED
Diesel, Sneaky Sound System, Katie Noonan, Sarah McLeod and Vandalism to name a few.
AWARDS
The Cool – USA's Radio Airplay Summer Song 2018 Contest
Winner of Animation and Best Artistic Music Video at The Australian Independent Music Video Awards Nov 2014 for Sunshine Feat MC Anon On-line Production by Stuart Mannion, How Far Films, Directed by Zia, Rock The Om
Australian Independent Music Video Awards Winner Nov 2013 for Looking At You directed by Jeremy Santolin, The Picture Club.
UK New Music Video Awards and Music Mix, USA, City of Love Craig Obey Radio Remix Music Video edited by Jeremy Santolin, The Picture Club.
Best New Talent, Original Blues Composition, Musicianship and Jazz Composition at the North Coast Music Industry Awards
Music Oz Awards Top 10 in Blues, Dance/Electronica and International Categories
Finalist Vibetone Original Songwriting Competition, Noosa Heads
Underground and City of Love songs were finalists in the USA Billboard Songwriting Competition, finalists in USA Song Wars competition run by Mike Pinders (The Moody Blues) and finalists in Milan's Think Tank Music Contest, Italy et al.
TV
Underground synced in USA's Rich Kids of Beverly Hills (Reality TV Show)
City of Love Radio Remix – placed in DisOrientation – film screened Hollywood June 2nd 2012.
Underground Remix – placed in Young Hollywood Awards Show 2012
City of Love Radio Remix RAGE national TV Australia
City of Love Radio Remix Music Mix USA (40m homes, LA, NYC, Washington DC, California, South America)
Underground Radio Remix RAGE national TV Australia
City of Love won UK New Music Video Awards
RELEASES:
SUNSHINE REMIXES
#1 Kings of Spins Global Radio DJ Charts. Sunshine Remixes consist of club remixes, progressive and funky house remixes and radio edits, by Angerwolf (Morocco), SKUNNX (Indonesia), Ofer Hamerman (Tel Aviv), KOLD (Netherlands), an experimental mix by Cosmic Aurora (Peurto Rico), with an extended mix from Multi-Platinum Grammy Nominated Producer-DJ (Remixer) Mr. Mig Aka H3dRush (USA). – with over 44 #1 Billboard Credits H3dRush has worked with countless major artists including Iggy Azalea, Pink, Scissor Sisters, Missy Elliot, Katy Perry, Sam Smith, Justin Timberlake, John Legend, Pitbull, Cher, Miley Cyrus, Beyonce, Britney Spears, Taylor Swift, Usher, Adele, Madonna and more. Global promotions and release on Rock The Om Records. All remixes were created with ZIA's vocals of Sunshine (Original Mix).
Click to buy and download Sunshine Remixes!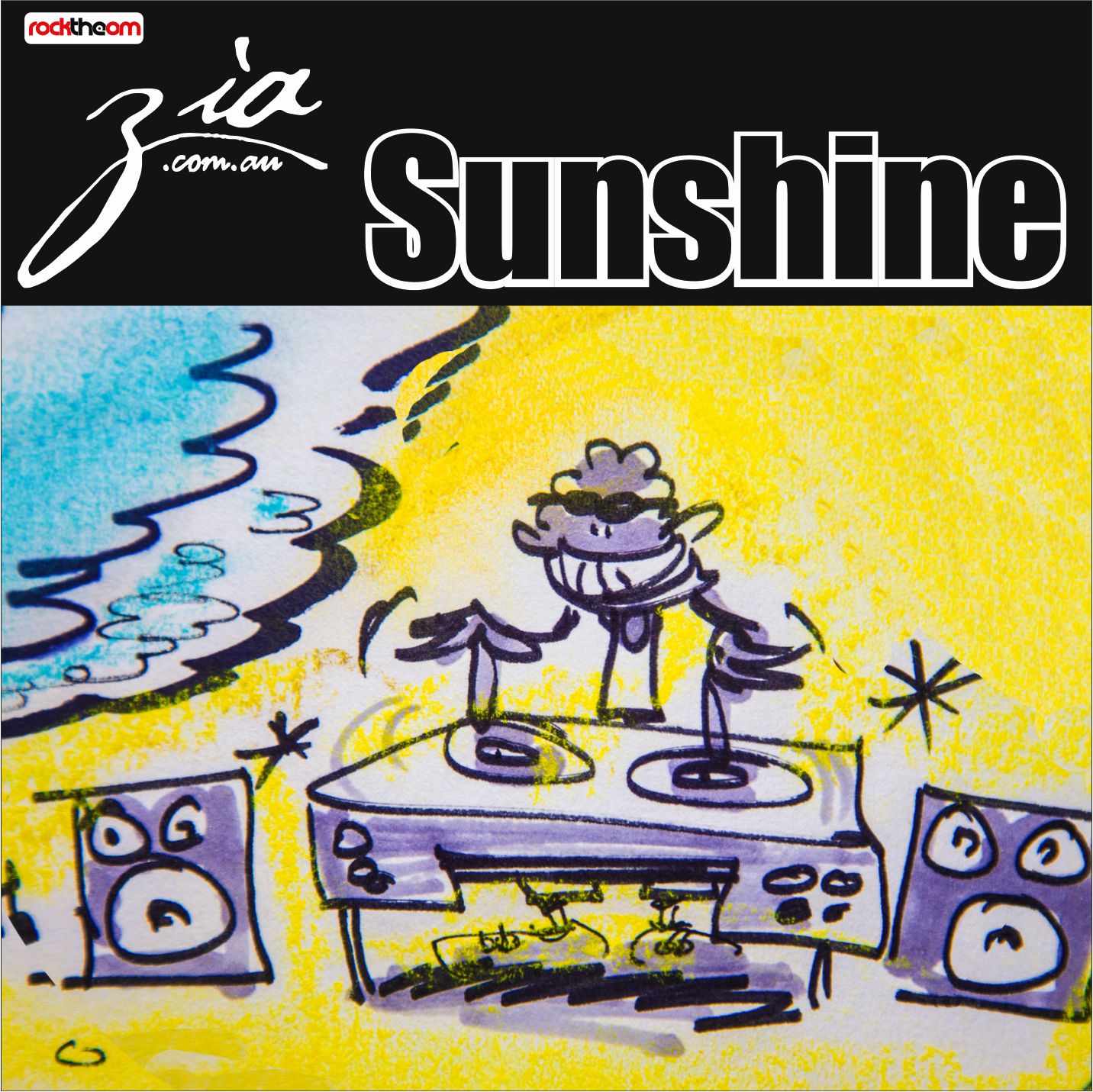 'SUNSHINE FEAT MC ANON'
A sharp piece of urban-infused dance, "Sunshine" delivers 3 tracks to the release, with a radio edit, Instrumental version and Ring Tone.
"Sunshine" is accompanied by an animated video, and is an illustration that comes to life with stop-motion cartoon images featuring the beautiful East Australian Coast line and the famed Glasshouse Mountains in the Sunshine Coast Hinterland. The video features people surfing, hang gliding, rock climbing, skateboarding, horse riding, families, fishing, a pineapple, a Koala, a DJ spinning 'beach beats on the beach,' and more!
"Sunshine is – Good time party vibes." – Zia
LOOKING AT YOU
Zia teams up with Craig Obey (known for his album and single releases on Ministry of Sound, Australia), to bring classic house and raunchy vocals, for the Looking At You underground dance, funk remix. Mix and additional production by David Manna, Sydney (ARIA and UK Club Chart regular). Lucky Love (Funky, Retro, Original Looking at You) produced by Zia (bass and vocals).
Winner at The Australian Independent Music Video Awards. Looking At You Radio Edit features Craig Obey, with remixes by Rave Radio, known for their remixes for Bombs Away, Pitbull and Stanton Warriors. Looking At You music video is directed by Jeremy Santolin (Powder Finger, Silverchair, The Grates, The Living End). Airplay: Selected high rotation and regular rotation on Australia radio stations, and play listed in 600 gyms and fashion stores. International play listing in Korea, USA, UK, Guatemala, Switzerland, Canada, Belgium, Finland, Denmark, Malaysia, Finland, Netherlands, China, Japan, South Africa, Czech Republic, Singapore, Phillipines, Mexico, Hong Kong, Brazil, Malta, Chile, Greece and India
CITY OF LOVE
City of Love Radio Edit is a mix of synth pop and gritty guitar with 12" and Radio Club Remixes by DJ/Producer Craig Obey.
The 12″ Remix by Craig Obey features in a party scene in DisOrientation, a film premiered in Hollywood.
City of Love is about Brisbane – the madness of the city, the interesting faces, places and strange behaviours, it's about love and the bridge that tells a 1000 stories
The City of Love video clip as seen on RAGE, was shot in Super 8 film and filmed in a funky retro 70's style house in West Chermside, Brisbane
A finalist in the UK New Music Video Awards, and Music Mix USA, City of Love screened throughout 40 million homes in the USA. City of Love reached Top 10 in the Music Oz Awards and play listed on Nightlife's SBA Network with 2000+ clubs and venues around Australia
City of Love – broadcast rotation:
Joy FM, Nova 93.7, Satellite Music Australia, 99.7, Stellar Group National, Magic 1059 / 5 AU, CDBY, PBA FM, 2CHR, Meeka FM, Zinc FM, Plenty Valley FM 88.6, 4RFM, Radio Ena, CVC Network National, Radio Metro 105.7, Orange Community Broadcasters, Rebel FM / Breeze, Switch. www.http://www.RadioElectric.com
Aired: 4ZZZ, Hot 91 FM, 2BLU, 3JOY, Edge FM, Blu FM 89.1, PBS, Albuny Community Radio, TV Channel 31 Melbourne, House of SYN – Student Youth Network, Bay FM Byron Bay.
UNDERGROUND
Zia's debut release Underground is as much a journey of pure, unadulterated synth funk as it is a journey of self and sexuality. Craig Obey's 12″ and Radio Remixes peaked at # 29 in the ARIA CLUB Charts during 2006 and fluttered in the TOP 50 within the first 10 weeks of its national promotion, generating repeated spins in clubs and on dance radio Australia wide. Underground Radio Remix was placed in the Young Hollywood Awards Show May 2011, which was televised nationally throughout the USA.
Underground was added to specialist shows on Nova (Sydney and Brisbane), Fresh FM (SA), Kiss FM (Vic), Triple J's Groove Train, Ministry of Sound (syndicated to 65 stations Australia wide), Hot 100 – mix sets (NT), HOT 91 (QLD), ZINC FM (QLD). Radio Metro (QLD) and Raw FM (NSW / QLD / ACT) added it as a high rotation single.
Underground reached Top 10 in the International Category in the Music Oz Awards and was synced in USA's Rich Kids of Beverly Hills (Reality TV Show)
The Underground music video screened on RAGE TV, was shot in 32mm film by award winning director Stuart Mannion, and distributed in Canada, France, Belgium and Germany on Ozgigs4 DVD. Underground also featured on USA's Indiefeed (the largest free download music discovery service in the world with over 2.6 million Nilesen-verified downloads distributed
Instrumentation
ZIA – Vocals, Bass, Guitar, Keys + Special Guests
Discography
Ibiza Summer 2017 Compilation – The Hottest New Filthy House, Electro & Club Tracks – Atticus Indepandance & Dirty Harry Records featuring The Cool [Damien Hall Remix]
The Cool EP – 418Music [StoneBridge, KUE, Damien Hall]
The Cool Remixes – 418Music [EVO-K, SKUNXX, Mr. Mig aka H3dRush]
Mission: Miami 4 (WMC 2017 Compilation) featuring 2017 Remix Producer of the Year KUE's remix of The Cool
The Cool – Rock The Om
Sunshine Remixes – Rock The Om
Sunshine H3dRush Remixes – Rock The Om
Sunshine Beaten Bass Remixes – Rock The Om
Sunshine Radio Edit Feat MC Anon – Rock The Om
Looking at You – single iTunes ZIA – Rock The Om
City of Love Radio Edit – WOA Records "GOA Chillout" Compilation CD, India / Middle East 2011
City of Love Radio Edit – Mezonic Records "Blow Up" Compilation CD, USA 2009
City of Love Radio Edit – Soundslikecafe release 1200 cafes, Australia 2009
City of Love Radio Edit – Coast Baked limited edition CD compilation, Australia
Underground Remix music video on Ozgigs4 DVD distributed in Belgium, France, Germany, USA
UNDERGROUND SINGLE – Rock The Om
– 12″ Remix Craig Obey
– Radio Remix Craig Obey
– Underground – The Original Version
OM ALBUM (Acid Jazz Instrumentals – drums, bass, guitar)
Coast Baked 4 – Underground Radio Remix – Compilation CD
ZIA ROAR – Solo album guitar and vocals/bass and vocals
EP Acoustica – 5 acoustic guitar tracks
Phased Out written by Zia, Corinne & Co Secret Street Records, Jazz
ZIA – Member APRA / BMI, PPCA
Official Website
Check out Zia's social media sites:
Zia's YouTube Channel (Artist)
Rock The Om's YouTube Channel (Record Label)